We found where all the tourists hang out. Yesterday we did encounter a few travelers moving in groups headed by tour guides as they wandered up to the cities sites or a few random folk at the galleries we stopped at. Today we stop in Marienplatz. It is the plaza from which to view the famous clock tower that has the moving figures as the clock strikes the hour. Every man and his dog is standing in the square as the bell tolls. Their necks are craned upwards and their cameras are ready. 15 minutes later the show is over an 3/4 of the crowd head to the market next door to search out lunch. We muse over the fact that many many people experience the clock through the lens of an iPhone camera and not with their own eyes. What happened to just watching and experiencing without feeling the need to get it all recorded?
We do go to another art museum, but the cool thing we did was to go to the Residenz Museum (a castle) to see the rooms that are done in the Rococo fashion of design. Gold, curly designs, over the top decorating. That is Rococo. It was fabulous!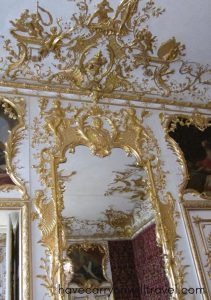 We meet I&R in Odeonplatz and walk through the English Garden, a huge park that rivals Hyde and Central Parks in size. Just on the edge of the park, near a bridge there is a spot in the river that has a natural standing wave. Surfers surf this wave. It is about 30 ft across and they take turns surfing back and forth along the wave. It is a short ride for some and then they are back in the cue for another try.
We walk to a typically Bavarian restaurant for supper and munch on snitzel, roast pork and steak. We share a dessert of pancakes mixed with raisins, almonds and sugar which is topped with apple sauce. Yummy!
Another full day in Munich!