We have a quick breakfast, break camp and head towards Khwai. Our first sighting is a group of trucks. There is a "kill" up in a tree. That means leopard. We hear from another guide it is the same mother that we saw on day 1 in the Savuti. And she has BOTH her cubs with her. Finally, a happy ending! All of a sudden the male cub starts to climb the tree towards the kill. We watch while he scales the trunk and then jumps from branch to branch towards his meal. We watch him tear at the dead impala, it is hard work.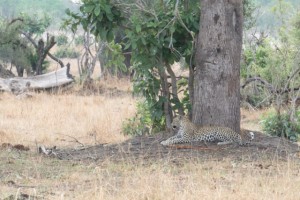 At the base of the tree, mom sits patiently, stirring occasionally. Sister is in a nearby thicket, most likely sleeping. Eating and sleeping take up a good portion of a cat's day.
We drive on, the landscape heading south in Chobe National Park looks rather inhospitable. Sandy ground, not much ground cover, low shrubs with not many leaves.
Our second sighting is another mother and children. A lioness and two male cubs. They have come across a recently deceased elephant and decided to partake in a meal. They have finished eating by the time we arrive, and are, of course, lounging. The cubs are new to sighting safari vehicles and are skittish. They are dirty faced from their meal. Restless, they move about pacing in circles while mom keeps a watchful eye on them.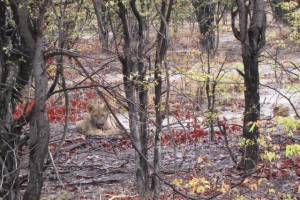 We arrive at our next camp. The diligent camp staff have it mostly set up already and we fall into our lunch as we are very hungry.
We watch an elephant about 50 meters away from us also eating his lunch. He is across the water that borders our campsite. The elephant starts across the water and we watch in awe at his gracefulness and quietness as he pads through the pond. We walks right by the edge of our camp as we hold our breath and stay very still.
As we get ready to go for our afternoon game drive it starts to rain. We all don our rain gear with the attitude that a little rain won't stop us. It turns into more than a little rain. We learn two useful items about when it rains. One, all the animals hide. Two, the termites fly out of their nests by the billions. After getting one in my mouth, I pull my scarf over my lower face so not to eat too many. We finally give in to the rain and head back to camp early for another delicious supper.