Today is a day for eels. We have not seen many in the four days we have been diving. Today we see five, three smaller and two huge!
Murray and I are swimming back towards our marker point on our second dive, and suddenly there is a huge Green Moray Eel swimming past us just off to my left. I don't move, just watch him cruise by. Don't want to be his lunch. After he passes, I kick to Murray and poke him excitedly so he can watch the eel too. Mr. Moray keeps going and swims over a coral head and disappears. We both look at each other in shock that the eel is out of its hole and that he is so large and long.
We spy a few of Mr. Moray smaller relatives here and there on our dives (photos). They are not so intimidating and stay nicely in their holes.
On our last dive, I am approaching a Yellow Arrow line Crab for a photo when suddenly Mr. Morey's brother swims right underneath me, only about 2 to 3 feet below me. I, once again, don't move and try to not look too tasty. This time Murray sees him right away as he descends to lower depths. Again, we look at one another and shake our heads. What is going on???
It definitely is an eel of a day!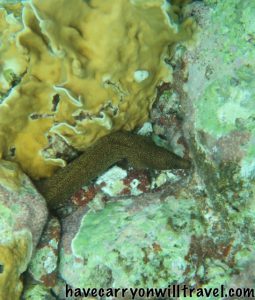 We hooked up a pretty good system for diving Bonaire. The hotel, Coral Paradise Resort, we are at has 'connections' to everything you would need to dive here. First we rented the room with a kitchenette. It is a really nice hotel with only 8 rooms.
They did all the work and through them we rented our truck, with AB Rental. The truck was waiting for us when we got to the hotel. There was a taxi waiting at the airport to shuttle us to the hotel when we arrived.
One trip to the dive shop, AB Dive, the next morning for the Bonaire Marine Park lecture and the mandatory check out dive and from then on the tanks we require are delivered to the hotel. So all we have to do is get up in the morning, load the truck and we are off diving. They let us take a days worth of tanks so we don't have to return to town at all.
There is a kitchenette in the room so breakfast is very accessable. Once we leave here we head to a dive site. The hotel folks can also hook up a holiday of boat dives if that is your schtick or a combination of boat and shore dives. We wanted to dive the wildside and Caroline booked us a boat ride for 2 dives on the east coast. All in all this has been a very easy trip to organize and so far has worked well for us. I would without a doubt stay here and do this again.