Today is the final stage of the 2015 Tour of Alberta. Murray and I look forward to this stage as it is an 11 lap circuit in downtown Edmonton, has some exciting hill climbs, crazy fast descents and is walkable.
We park in our secret spot, walk to the hairpin turn at the bottom of Bellamy Hill and only have to wait about 10 minutes before the peleton swooshes by. I hold my breath as the riders pass as I am in the path of a miscalculation around the corner. I am ready to jump out of the way, if necessary.
The next two circuits we spend at the top of Bellamy Hill as lap 3 is part of the KOM and I want to cheer on Ben Perry, a Canadian, riding for Silber. Perry does not disappoint and there is a race up the hill to garner the KOM points. (He goes on to win the KOM title.) I clang my bell and clap my clapper along with the rest of the crowd cheering.
We then spend the remaining laps walking along the route, stopping each time the racers rush by, Murray to shot photos, me to cheer. We meet people from the different segments of our life and stop to chat. The stage brings out Edmontonians and the turn out is great.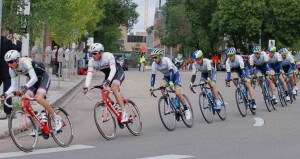 The finish is fast and loud. We wander along the team buses, Murray chatting to a coach from the Hincapie team and an Austrian rider from the Giant team. We pick up a couple of water bottles, always a good find.
All of a sudden the Tour of Alberta is over.