The word for the day is "HUGE". Today we see a huge crab right at the beginning of our first dive. This fellow was out in the open at 9:00 this morning. Must have been partying last night and was returning home.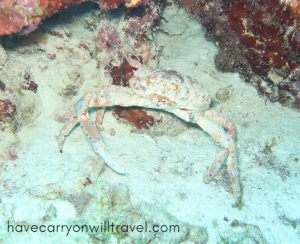 Then, on the same dive, we spot this fellow. Also out of his hole and scrambling to get under cover. He could have fed a family of ten, plus the grandparents! Murray commented that NASA got the design for the lunar module from the way a lobsters legs move!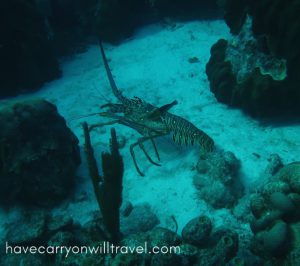 We always enjoy seeing schools of fish. Their movement through the water is fascinating and mesmerizing. This school of Blue Tangs swims right at me then veers off. We call this the blue highway.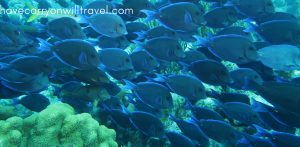 Our last dive ended with seeing the humongous bait ball of shad fish again. We saw it on one of our first days here at the dive site next door. The ball has moved and we swim right into it on our route into shore. We are completely surrounded by fish and did not know which way the shore was except to look at the compass. Thousands of small silver fish with the light glinting off their sides. It is truly an amazing sight.