We motor further up the Rainbow Reef today to do three dives and have lunch on the boat. We finally find diving that compares to our expectations for Fiji.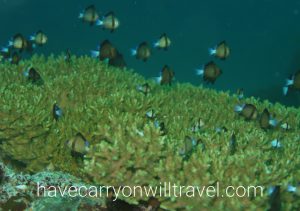 The fish are more than abundant. A gazillion, at least. We see species we have not seen yet. A Blue Spotted Sting Ray, Ribbon Eel, Red-breasted Wrasse and Titan Trigger fish.
The corals here are also varied, both in colour and type. It is spectacular looking at the colours as we drift by.
The dives today are all drift dives. We get dropped off in one spot, drift along and get picked up down the reef. We cross over the reef at one point  absolutely flying with the current. It is quite the adrenaline rush zooming over the coral, trying not to bump into everyone else. Once over the top we duck behind an outcropping and are immediately out of the current, where we can go at a leisurely pace.
The water temperature is surprisingly cold. Again, expectations were a temperature above 80 C, maybe up to 82 C. Today, parts of the dive are a chilly 78 C, and because we are not exerting much energy, we both get cold. I am now seriously contemplating wearing my electric shirt under my wetsuits tomorrow to help keep me warm.
Today we experience Fiji diving reaching towards its best. We'll see what tomorrow brings.